Australia's Best Value Rostering Software
Unlimited Employees. No Hidden Fees
Online rostering & timesheets that make time and attendance easy. No pricing tiers and no per employee cost.
FREE 14 day trial. No credit card required.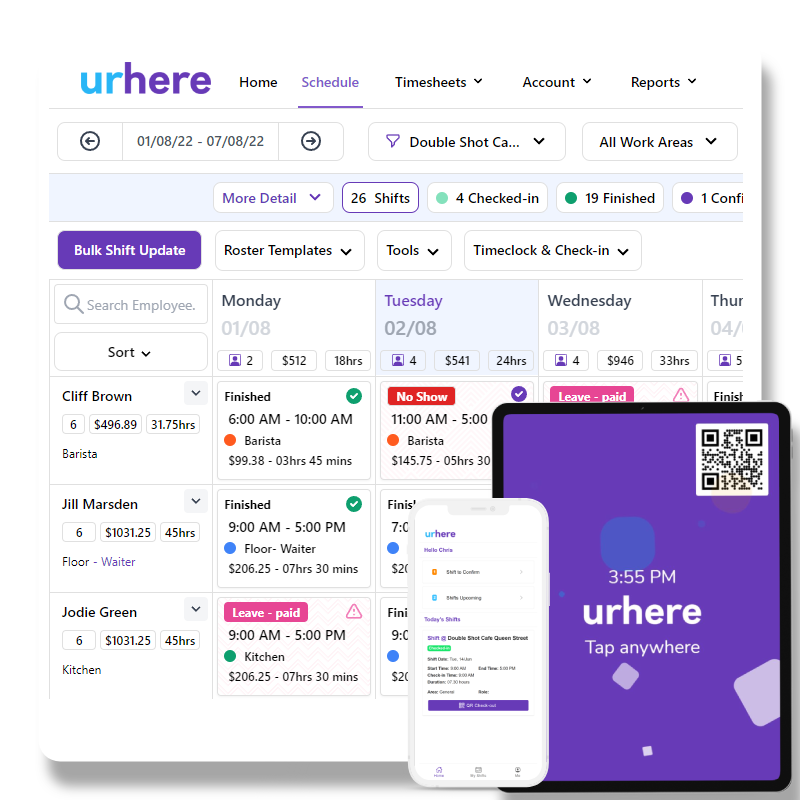 Manage your roster & timesheets online
Online rostering & timesheets that make time and attendance easy. No pricing tiers and no per employee cost.
FREE 14 day trial. No credit card required.
Simple, yet powerful online rostering

Timesheets & Wages
Automated time & wage calculations
Rostering
Easy to use interface & timesaving tools
QR & Digital Time Clocks
Solutions for all businesses and budgets
Quick Onboarding
Hassle free employee onboarding
Online rostering with urhere is easy!
With the multipurpose online rostering software from urhere, you can easily manage rosters, timesheets, wage calculation, staff attendance and availability. By using a cloud-based solution, we make the task of accessing rosters and logging timesheets easy.
Add Your Team
It's quick and simple to add employees. We can automatically invite them to the urhere Mobile App, if you choose that option.
Build Your Roster
Build your roster online easily with our user-friendly roster interface. Automated shift communication plus copy & paste and bulk update tools make rostering a breeze.
It's That Easy
Staff can now check-in and their timesheets will be automatically created. Use one of our timeclock options to let your team clock in and out of their shift.
Rostering software that saves you
time & money
Timesheets & rostering for $20 per month, per venue
More now than ever, business owners need to spend less time in administration and more time working on their business. That's why we have developed a suite of tools that help make building and managing your online roster as easy as possible.
Save hours using our powerful rostering tools. Easy to navigate, easy to manage.
Roster Templates
Save as many roster variations as you like and load them with the click of a button.
Leave Manager
Easy leave management with leave requests, quick leave and easy to understand reporting.

Wages & Hours
Wages and hours are automatically calculated as you roster, so you always know your spend position.
Payroll Integration
Connect to Xero and make timesheets a 5 minute exercise and sync your employees.
Copy & Paste
Take the hassle out of rostering by using our powerful copy and paste tools for shifts, weeks and employees.
How does online rostering help your business?
Organising work rosters to suit everyone's schedule is a complicated and time-consuming task. If your team's plans change or the roster needs to be updated, you can quickly end up with multiple different rosters, confused staff and a mess at pay time. 
With online rostering from urhere, communicating with team members, centrally planning and disseminating a roster, and staying on top of last-minute changes, all become a breeze.
It also saves you from dealing with complicated and expensive setups. Plus, with our smart integrated time clock, you can quickly check in using the urhere app. This isn't just efficient and convenient but also affordable, saving you as much as $1,000 in expensive employee time tracking hardware.
Ready to transform your business?
Timeclock solutions for all budgets
We have multiple timeclock options to suit any business. Our unique QR check-in system can save you over $1,000 in time clock set-up costs. Simply set-up in seconds, print and display. 
Timesheets that just make sense
Calculate Time & Wages Automatically
Timesheet hours and wages are calculated and generated automatically based on shifts and leave – meaning no double handling or manual calculation is required.
Our user-friendly timesheet interface means that you and your management team will spend less time approving timesheets.
Frequently asked questions
We're always available if you would like to know more. Simply click the online chat button on the bottom right or contact our friendly team via the link below.
No pricing tiers, no per employee cost
No hidden or per employee costs. Pay one flat rate per venue.
Free 14 day trial. No credit card required.
Click the button below to start your FREE 14 day trial.
No credit card required. Cancel your trial at any time!